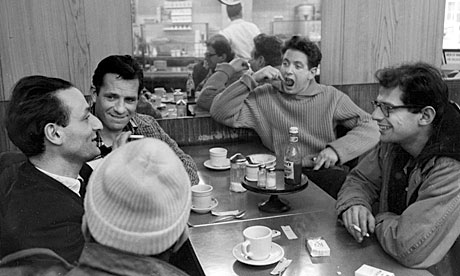 Today we're taking a little break from First Line Fridays to remind you that "Talk Like a Beat Day" is coming up on Sunday October 7th.
Talk like what now, you ask? Like a Beat- as in Beatnik, daddyo. No, it's not yet the international phenomenon that "Talk Like a Pirate Day" has become, but after finally joining the cult of Kerouac this year, I am heartily endorsing the Guardian's declaration of October 7th as Talk Like a Beat Day.
Why October 7th?
"7 October was the original "Beat happening": the date that Allen Ginsberg first recited Howl in San Francisco, Kerouac beating out the rhythm with a wine jug and shouting "GO!" after every line. The beat movement of the 1950s is so rich in its own language and terminology that it's crying out for its own memorial event."
Couldn't agree more. Here is a glossary to get you started quickly:
And here is a collection of videos that might just give you some helpful inspiration. Can you dig it?