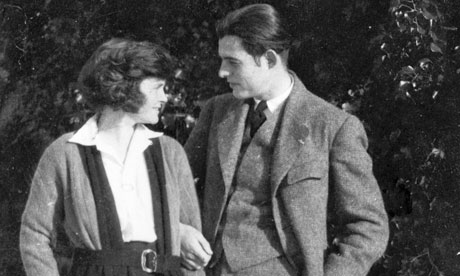 So when the title sounds like chick-lit, and the cover looks like chick-lit, you expect chick-lit, right? But I was actually pretty pleasantly surprised when I opened up Paula McLain's The Paris Wife a few weeks ago. It's a view of Hemingway's Paris years through the eyes of his first wife Hadley, and I'm happy to report that anyone with a predilection for the writer, and for Paris in the 20's, will probably enjoy the book.
Now, I'll admit that I didn't read it like a novel, though the writing is fine and the story is certainly strong enough to carry the reader along. Rather, I read it like a Hemingway biography. Call me a pig, but that's what I was interested in. And say what you will about McLain as a novelist, the woman did some pretty serious research to get the thing off the ground.
I was looking for fresh angles on familiar characters (the Fitzgeralds do not come off well, Joyce barely shows up at all), new tid-bits I'd never heard before (did you know it was almost Rome, and not Paris, for example?) and Hadley's take on some of the bigger plot points (how would she handle the tragic loss all of Hemingway's early work at the Gare de Lyon? Or the affair with Pauleen Pfeiffer?).
There were no huge surprises, but there were a few eyebrow raisers. I think we're all fully prepared to see Hemingway revealed as a bit of an ass, but McLain makes Hadley out to be far more athletic, lythe and attractive than she really was. I mean, not to be mean, but we do have pictures after all. Here's Pfeiffer, Hemingway and Hadley together in Pamplona:
At the same time, she portrays Hadley as such a weak, accepting, milquetoast of a character, who lets Pfeiffer walk all over her marriage and even right into her bed. (A diligent Googler will find some evidence of Hadley's easy acquiescence, but no hard proof that the three ever shared the same bed— outside the plot of Hemingway's posthumous novel The Garden of Eden , which contains a similar episode.)
Regardless of the Hemingway-McLain 'he said-she said,' you almost get the impression that you could read The Paris Wife alongside A Moveable Feast , and between the two of them, start to arrive at some version of the unvarnished truth behind Hemingway's first marriage. But it was an interesting read, and I'd recommend it to others who suffer from Hemingway "aficion."