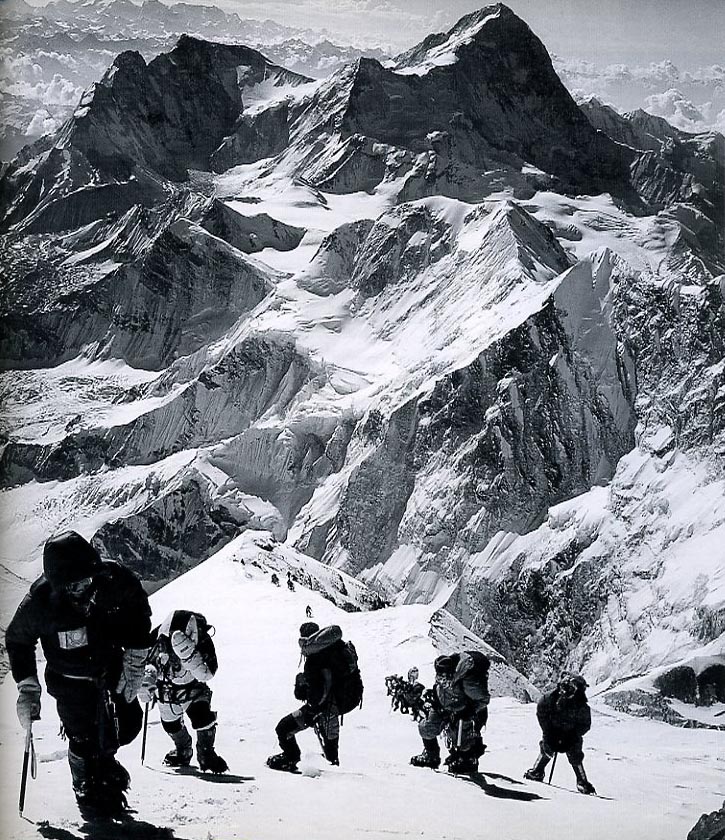 -author is third from the left
This was a rare (for me) excursion into the world of non-fiction- only my second all year. I guess I'm sort of weird that way: I want my fiction to be believable, and solidly based in reality, but I want my non-fiction to be lyrical and impactful without blatent preaching. Having loved Krakauer's Into the Wild , (and giving in to my obsession with adventure tales of all types) I thought this one might just fit the bill. It certainly did.
This fast-reading, but deftly-turned book is a firsthand account of the 1996 Mt. Everest disaster. It's a book that will have you dreaming of reaching the summit at the same time it convinces you that you'd just as likely be one of the poor saps who finds an early grave there every year. (Ten lost their lives in 2012 alone.)
Like an intricate thriller, Krakauer's story will have you replaying insignificant early events in your head, as you learn how they became anything but insignificant to the various climbers and guides trapped on the mountain. It's a book filled with the kind survival stories that would have you rolling your eyes in disbelief if it were a work of fiction. Knowing that it's not, though, you'll be sucked into the account, coughing up pink sputum with all the other altitude-stricken climbers and pulling for them to get back to their tents when all hell breaks loose.
As a work of literature, it's not going to bowl anyone over, but it will transport you to a place you'll likely never see. And that right there is worth the price of admission. Check it out: